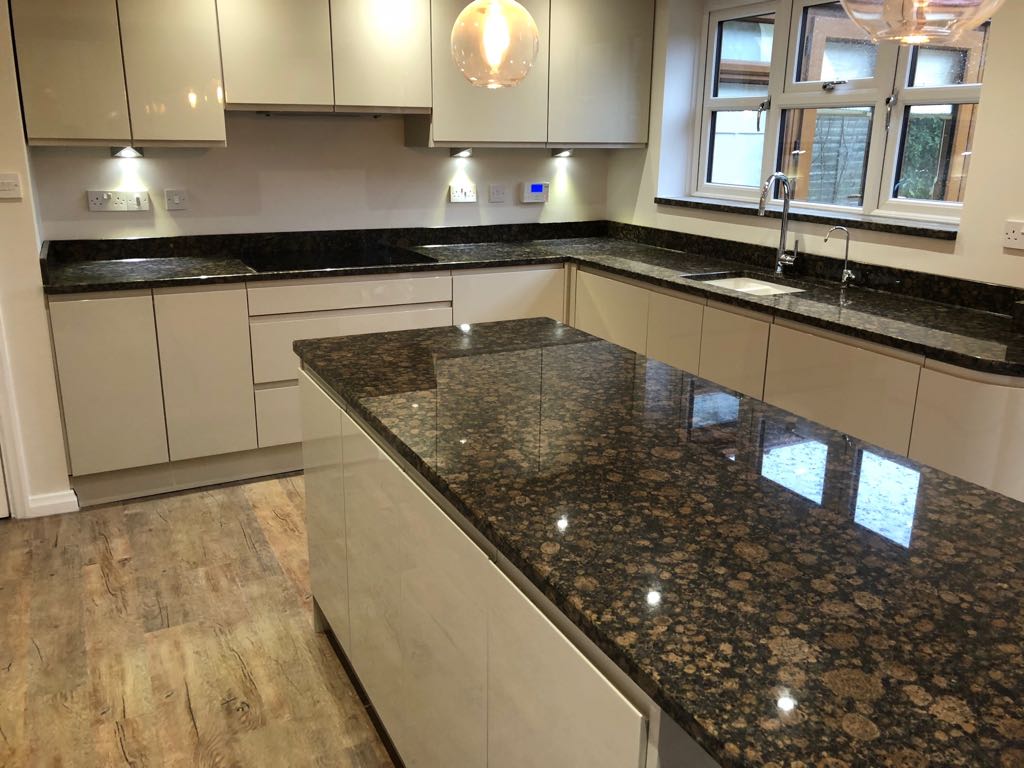 Granite vs Marble Kitchen Worktops
Time to upgrade your kitchen? Your kitchen worktop is a key part of the design process, as you'll be using it multiple times a day. So your kitchen worktop type needs to suit your home interior as well as lifestyle. Finding the right kitchen worktop for your home can be quite overwhelming, with so many to choose from! So it's important to have an idea of what look you want your kitchen to have. You may be wondering which worktop materials will work best. Two popular types include Granite and Marble. They are both natural stone materials, which add a sense of beauty to all kitchen designs. If you think natural stone may work best for your kitchen, you may want to know more about their qualities.
Discover the difference between Granite and Marble worktops, so you can get your kitchen just right.
Granite Kitchen Worktops
Granite is a very popular choice for kitchen worktops. The material is natural rock that is cut, then polished for use in homes. It offers a stylish, elegant and luxury design. A Granite worktop is high quality, durable and functional. It has excellent heat-resistant, so it can easily tolerate hot pans placed on top of it. Whether you're kitchen is traditional or modern, there will be a granite style that suits your unique design scheme. With new modern technology, granite can be cut into the shapes and sizes you need.
How Effective is Granite?
A Granite worktop has a beautiful, polished shine and adds a luxurious feel. Granite is an attractive material which is rarer compared to others, therefore it's more expensive. The Granite stone is a hard material and has excellent resistant to heat and scratches. In order to prevent any stains, like wine and citric acids, a special sealant is required. This only needs low-maintenance, with the initial sealing lasting up to 10 years.
Is Granite Expensive?
Granite stone is associated with being a rare material, so it's more costly compared to others. Although it is not as expensive as marble because you are limited with your choice of colour as each piece is different. You can buy Granite worktops from approximately £200 per square metre. A granite worktop will also cost you for special sealant maintenance, as this protects it from marks or stains.
Key Benefits
Heat Resistant

Easy Maintenance

Scratch Resistant

Polished Shine

Natural Rock Material
Marble Kitchen Worktops
Marble is a high-end luxury product, they display beauty and elegance. Marble has original minerals which become crystallised, creating a unique glossy shine which boasts an array of beautiful patterns. The lines and swirls are due to impurities such as clay and silt. The most popular type is the white marble, as it is easy to carve.
Marble kitchen worktops are highly versatile and suit both traditional and contemporary kitchens. They are easy to maintain and offer an attractive, stylish look. To keep Marble looking polished, it has to be resealed once a year, this gives you extra time to remove any acidic spills before it stains.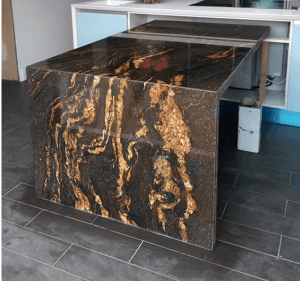 How much does Marble cost?
A marble worktop is cost-effective, depending on the type of marble you choose. For example, you can expect to pay from £300 per square metre for Carrara marble. If you purchase marble with a trusted stone supplier, this will save you error and expense. Marble is one of the cheaper options, than other stone materials, because the average cost varying.
Key Benefits
Heat Resistant

Luxurious Material

Easy maintenance

Traditional or Contemporary
What Material is best for me?
When it comes to choosing between Marble and Granite, there is debate over which one is the best quality worktop. Marble can be absolutely beautiful with its colours and patterns, but it will only work with your everyday lifestyle if it's properly sealed every one or two years. On the other hand, Granite is stronger than marble, so is well-protected from chips and scratches. It is durable, heat-resistant and is easier to clean and maintain. If you're stuck with what material to choose, at least this will help you with making an educated decision. So you will be prepared for what's in store with your new kitchen worktop installation!
What can The Marble & Granite Company offer?
The Marble & Granite Company offer a beautiful range of premium Kitchen worktops in Essex and surrounding areas. All of our kitchen worktops are high-quality and affordable. Whether you're looking for Granite, Quartz or Corian, our professionals can make your Kitchen look fabulous. Get in touch today for your free quote on 01206 616323 or email us martin@bestgranite.co.uk for more information.